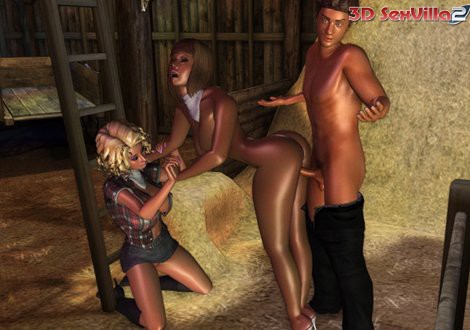 3D SexVilla 2
Download 3D SexVilla interactive sex game free full version
3D SexVilla 2 is definitely the most famous porn game available on the market today. The first version of the game was released at the end of 2004. It's been a long time, so a lot of things have changed. Today we have powerful computers with modern graphic solutions. Our graphic cards generates 3D models in real-time. 3D SexVilla game uses that possibility in 100%. New textures and other animation effects make the scenario and girls look really natural. It is probably the best interactive sex game you can download for free today.

3D SexVilla Everlust is an advanced porn simulator that allows to design own girlfriends, boyfriends and record unique 3D sex videos. The possibilities are endless, you can realize every pervert desire and erotic fantasy here. One of the best part of the game is to create unique models to fuck. Open easy to use editors and select specific part of the body. Use sliders and buttons to change its shape. Build your dream slut with long legs, soft hands, big tits, blonde hair, round ass and pretty face. Do it without any problems, there are no restrictions here. Customize face the way you like, choose hair color, mouth, ears, nose, eyebrows, cheeks, eyes and so on. Just click and change!



Take all your favorite 3D models, the one you have already created or downloaded from Gamerotica forum, and start the real action. 3D SexVilla allows to determine moves and behavior on the timeline. Just select the girl and use mouse to reach sex position you want. It's really easy, that way you are able to build the first own 3D porn movie. Think about your fetish ideas and move them all to the porn game. It is a virtual world of sex, so you don't have to think about consequences. Make your dreams come true with perfect 3D girls and handsome males. Try solo actions, masturbation, blowjob, jerk off, handjob, anal sex, fetish positions, threesome, homosexual, lesbians or even shemale sex. Each scene you can end with messy facial, face sperm shot, ass, foot cumshot...

If you don't like bedroom sex, 3D SexVilla game gives hundreds of possibilities. Take your models and organize a crazy orgy in a desert island or an exclusive yacht. Try the best virtual sex locations and have fun together with your cyber sluts. Here you have a short list of places where you can fuck: office, school class, bathroom, bathtub, public shower or toilet, locker room, sandy beach, medieval castle, many outdoor locations, public gym, hospital ward, strip club, fetish rooms, dark rooms, jail, garage, green garden, and even a plane or space ship. Take your babes and interact with all of them.

It is not enough for 3D SexVilla players. If you want to make your game even more spicy and kinky, use fetish tools and sex toys. Choose hi-tech vibrator, give it to one of naked girls and see how she masturbates. Have you ever wanted to see babe laying on her back and putting a big dildo in her ass? There is no problem to create such sex scene with 3D SexVilla. Open fetish wardrobe and try many pervert clothes and role-play uniforms. Test new fucking machine, sybian, cage, bondage, lines and ropes, hot wax, rubber masks, whip, black pantyhose, schoolgirl socks, miniskirts, butt plugs, pussy balls, piercing and tattoos. Get the latest updates and make your 3D fuck more natural. Use many kind of textures and actualizations. Download 3D SexVilla 2, create free account right now, and take a long sex trip to the infinite pleasure!
Watch more pictures at free adult game blog
Send that link to e-mail and play later...